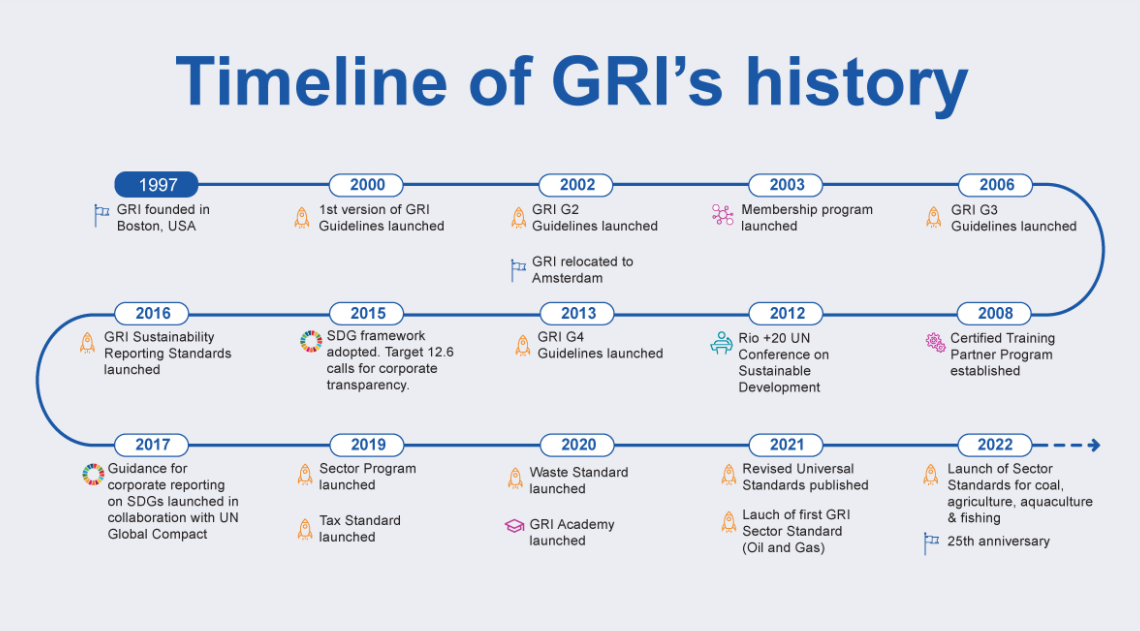 GRI (Global Reporting Initiative) is the independent, international organization that helps businesses and other organizations take responsibility for their impacts, by providing them with the global common language to communicate those impacts. It provides the world's most widely used standards for sustainability reporting – the GRI Standards.
With thousands of reporters in more than 100 countries, the Standards are advancing the practice of sustainability reporting, and enabling organizations and their stakeholders to take action and make better decisions that create economic, environmental and social benefits for everyone.
The history of GRI Standards
Initiated by the Global Sustainability Standards Board (GSSB) in 2019, the project aimed to review the GRI Universal Standards, which consist of
GRI 101: Foundation 2016
GRI 102: General Disclosures 2016
GRI 103: Management Approach 2016
Its aim was, and still is, to improve the quality and consistency of sustainability reporting as well as how organizations use the Standards to disclose their impact on economy, environment, and people.
In particular, the project focused on the following
incorporation of human rights disclosures into the GRI Standards
incorporation of due diligence concept into GRI 103: Management Approach 2016
consideration of revisions to reporting principles and concepts in GRI 101: Foundation 2016
consideration of revisions to the reporting model in GRI 101: Foundation 2016
consideration of revisions to GRI 102: General Disclosures 2016
The review of the Universal Standards was informed by the recommendations of the GRI Technical Committee on Human Rights Disclosure, a stakeholder group on labor-related disclosures. 
What to expect 2023 onwards
The different news that will come into effect starting 2023 will be:
GRI standards constitute a modular and interconnected standard system decided for the first time in 2000 by the non profit  international independent organization Global Reporting Initiative (GRI).
Guidelines and indicators can be used, freely, by every kind of organization, independently by the economic sector tht wants to identify, prioritize and report their impacts toward sustainable development.
Built around the concepts of impact, materiality, due diligence and stakeholder engagement:  the new GRI standards increase transparency and responsibility with a true reference to Corporate Sustainability Reporting Directive (CSRD and to reporting principles of IFRS.
Why...
GRI exists to help organizations be transparent and take responsibility for their impacts so that we can create a sustainable future
How...
GRI creates the global common language for organizations to report their impacts - which enables informed dialogue and decision making around those impacts
What...
We are the global standard setter for impact reporting
We follow an independent, multi-stakeholder process
We maintain the world's most comprehensive sustainability reporting standards
Our Standards are available as a free public good
About the project
The most important news starting 2023 are:
GRI 1 Foundation 2021, the starting point to use  GRI standards
GRI 2 General Disclosures 2021 how to report the organizational contest information  (in sostituzione del GRI 102:2016) and
GRI 3 Material Topics 2021 is a sort of practical  guide to identify and manage materials themes management
Universal Standards have been reviewed with the aim to make reporting more complete ìn terms of international principles as:
Responsible governance
Due diligence
Respect of human rights
Starting 2023, every organization should take as a reference  - according to the commodity sector  - the related sector standards.
New standard sectors have been thought to improve quality, completeness and coherence of reported information: they describe the contests among which are developed the  impacts on sustainable development, connected to SDGIs of 2030 Agenda and for each one list the specific aspects to report.
The first standard sector to be published is the one related to Oil And Gas.
Last but non least there are 31 Topic Standards to be selected on the basis of results given from materiality.
In conclusion, starting 2023, the Universal Standards, sectorial and specific should be used as a unique interconnected set of modular reporting.
Starting 2023 it will not exist a difference between the adoption of standards in core mode: but only through the following options:
In accordance with : when an organization is able to satisfy all 9 requirements of the standard
With reference to: when an organization is not able to satisfy the mandatory requirements of GRI or wants to report only specific information.